So we did a thing a few weeks ago and have a new addition on the homestead.
Last year we had major issues with hawks and something else getting our birds.
This year we decided to try to do something about it.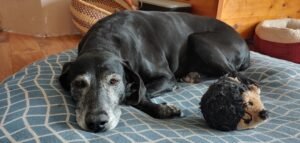 We've always been a big dog family, always having multiple dogs at a time. Then we grew to a handful and stayed with that bunch for many years. Most we had for 12 years or more. As they grew old and passed on, their numbers lessened and as of last year we were down to our old girl, Casey and the two little girls, Kimber & Cally.
All of our dogs, with the exception of Casey, have been rescues. Either found on a road or we got from someone who wanted to take them to the pound or just get rid of them.
They've all been companions and frankly, more like our furry kids. All have been loved dearly and spoiled rotten. And all that have passed are missed terribly.

This time we needed dogs that can do a job. We needed them to be able to help take care of our flock and the other animals we get in the future.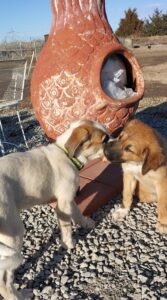 We live in the country, on a farm and there are coyotes, coons, skunks and all manner of wild animals looking to survive. And we wanted something that would help keep those wild animals at bay.
So we found some LGD puppies. LGD standing for Livestock Guardian Dogs. When we got them, these girls were just shy of 12 weeks old. And they are adorable.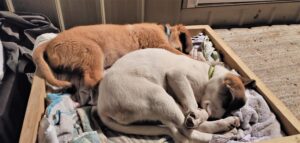 They are a Kangal and Anatolian mix, and so sweet. Jade is always in trouble. She's so adventurous and afraid of nothing. Kona is so calm and watchful. She likes to sit back and watch and approaches things with caution.
We can't wait to watch them grow. It's so much fun to have puppies on the farm again. We hope you all enjoy watching them grow as much as we do. Watch the video and we'll introduce our new girls to you.