These days I'm looking for any recipe using eggs!! We have so many.
Since we don't have time to cook breakfast in the mornings, I've been looking for new recipes using eggs for supper instead.
This weekend I tried a new one. I found it on the Taste of Home website and it's called Sausage Tortilla Breakfast Bake. I took out breakfast cause it's good anytime of day.
I'm the world's worst at following a recipe exactly. I either don't have everything a recipe calls for, or there's an ingredient in it we aren't fond of.
This was no exception. I didn't have everything it called for. So I improvised.
I'll give you the actual recipe and then I'll tell you how I changed it up.
Sausage Tortilla Breakfast Bake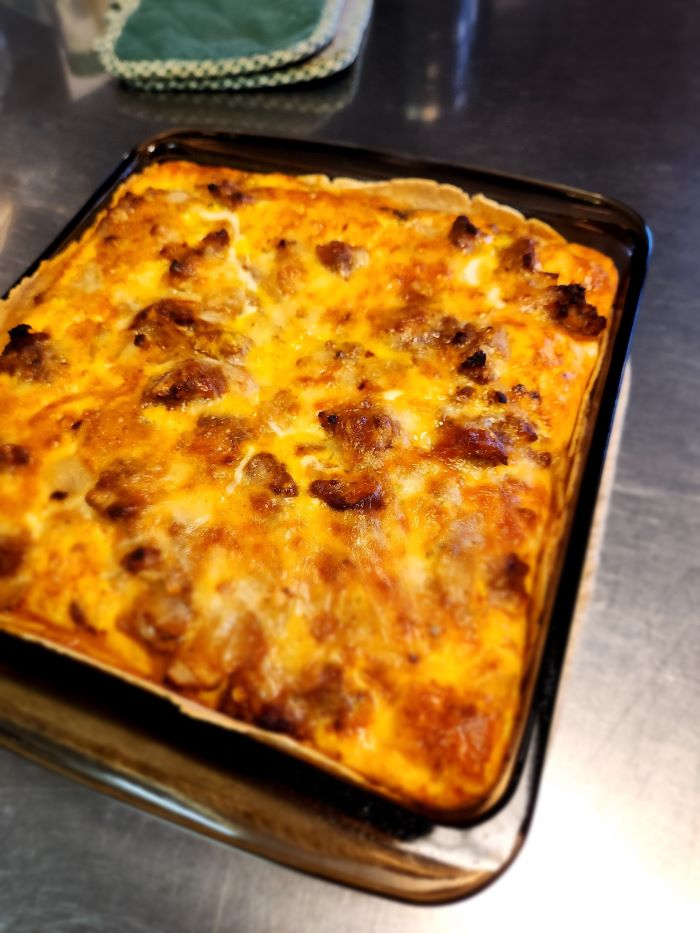 Ingredients
8 oz bulk lean turkey breakfast sausage
1/2 cup canned diced tomatoes & green chiles
6 corn tortillas (6 inches)
1/2 cup shredded Monterey Jack cheese
1/4 cup shredded Pepper Jack cheese
2 green onions, chopped
6 Lg eggs
3/4 cup fat-free milk
3/4 tsp paprika
1/4 tsp ground cumin
Reduced fat sour cream, salsa & additional chopped green onions, options.
Instructions:
Preheat oven to 350 deg.
In a large skillet cook the sausage until no longer pink.
Stir in tomatoes & green chiles
Coat a 9-in deep dish pie plate with cooking spray.
Line the plate with 3 corn tortillas.
Sprinkle with half each, sausage mixture, Monterey jack cheese, pepper jack cheese & green onions. Repeat layers.
In a bowl, mix together eggs, milk, paprika & cumin. Slowly pour mixture over the layers.
Bake uncovered until just set 30-40 min.
Let stand 10 minutes before serving.
Garish with sour cream, salsa and chopped green onions if desired.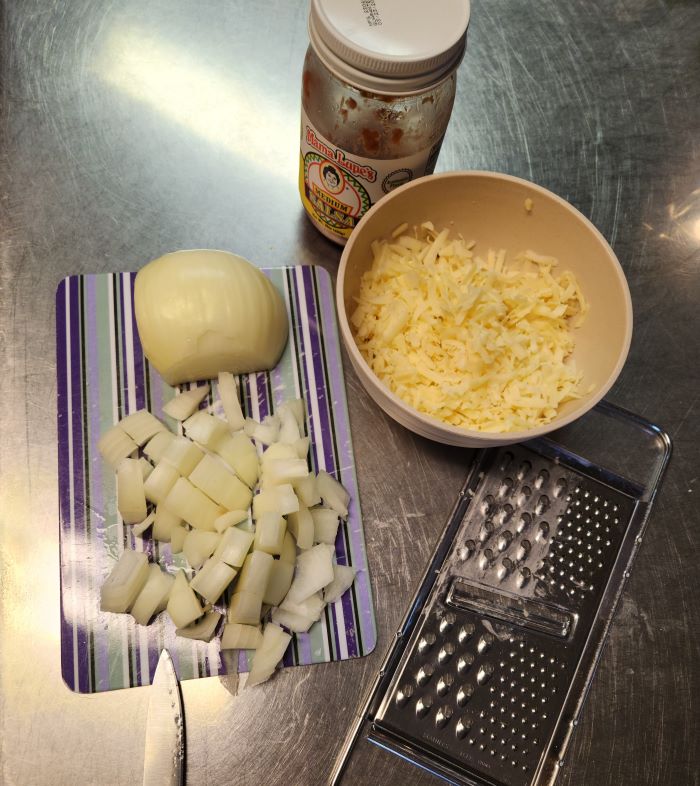 We're not much on turkey sausage, so I used breakfast sausage from the meat market.
I didn't have green onions, but we love onions So I used a large whole yellow onion, that I chopped up and sautéed with the sausage while it was browning.
I didn't have chopped tomatoes and chiles. So instead I used about 1/2 cup of salsa, medium heat.
I'm not sure about your place, but here 3/4 cup of cheese isn't going to cut it. Cheese is a "thing" in our house. So I went a little over what they called for, although I did use the Monterey Jack and Pepper jack as they suggested.
We also used flour tortillas instead of corn tortillas. Frankly, I didn't even notice it said corn tortillas until I was just typing the recipe….oops.
And I didn't use a pie pan. I don't have one I thought was deep enough for this recipe so I used an 8 inch square deep baking dish.
I layered as they suggested and poured the egg mixture over it and baked it. I baked it until a butter knife poked in the center came out fairly clean. That was between 40 & 45 min. It baked a little longer probably because it was deeper. That's my theory anyway.
In the end..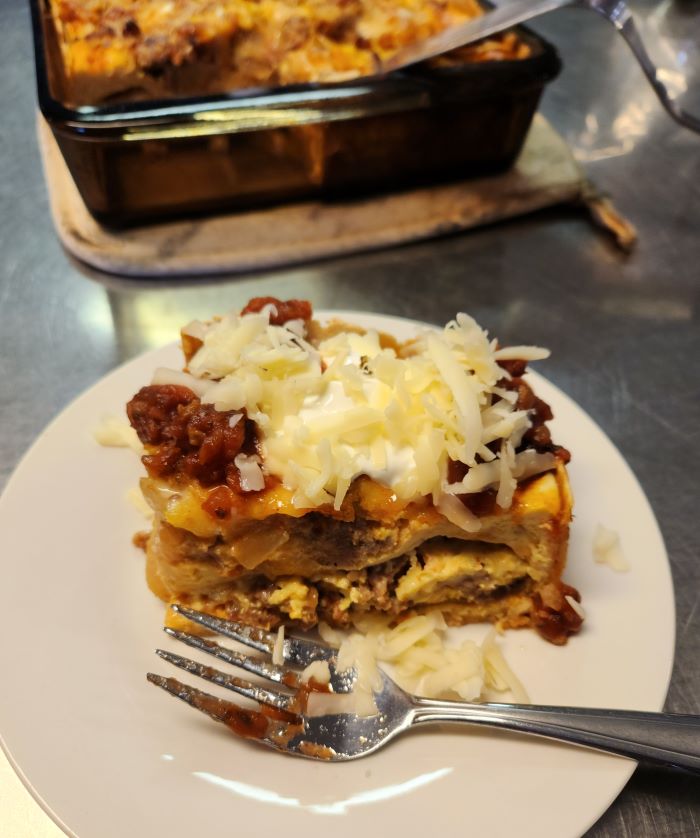 This is an awesome recipe.
As we say at home, "it's a keeper".
It's pretty quick & easy to put together (especially if you have the forethought to thaw the sausage).
And it made enough for left overs in our house.
I suppose you could double the recipe into a 9×13 in pan for a larger family too.
Next time I'll add some green or red peppers, sautéing them as I brown the sausage and onion…YUM!
You could add some cayenne pepper if you wanted more of a kick.
We opted for the sour cream, more salsa and extra cheese on top before eating it.
Do you any recipes using eggs that can be used anytime of day?
If you give this one a try, let me know what you think. If you change it up let me know what you changed. I might want to try it too!
I'm hoping to try more egg recipes for the blog. So if you come across something fabulous, let me know.