Making a quiche or a frittata is so simple, you'll wonder why you haven't made them before.
The only difference between the two is a quiche has a pie crust and a frittata doesn't. So try it both ways and see which you like best.
I love making these because it's a great way to get rid of odds and ends in the refrigerator. Meats, cheeses, veggies can all go into both. A little bit of onions, mushrooms, peppers, ham, bacon, sausage, cheddar, pepper jack, mozzarella. All of these are good, you decide how to mix and match.
Here's a simple recipe (I use that term loosely) that I follow.
Quiche or Frittata
1 dozen eggs, scrambled
About 1/2 cup of milk (give or take to your taste)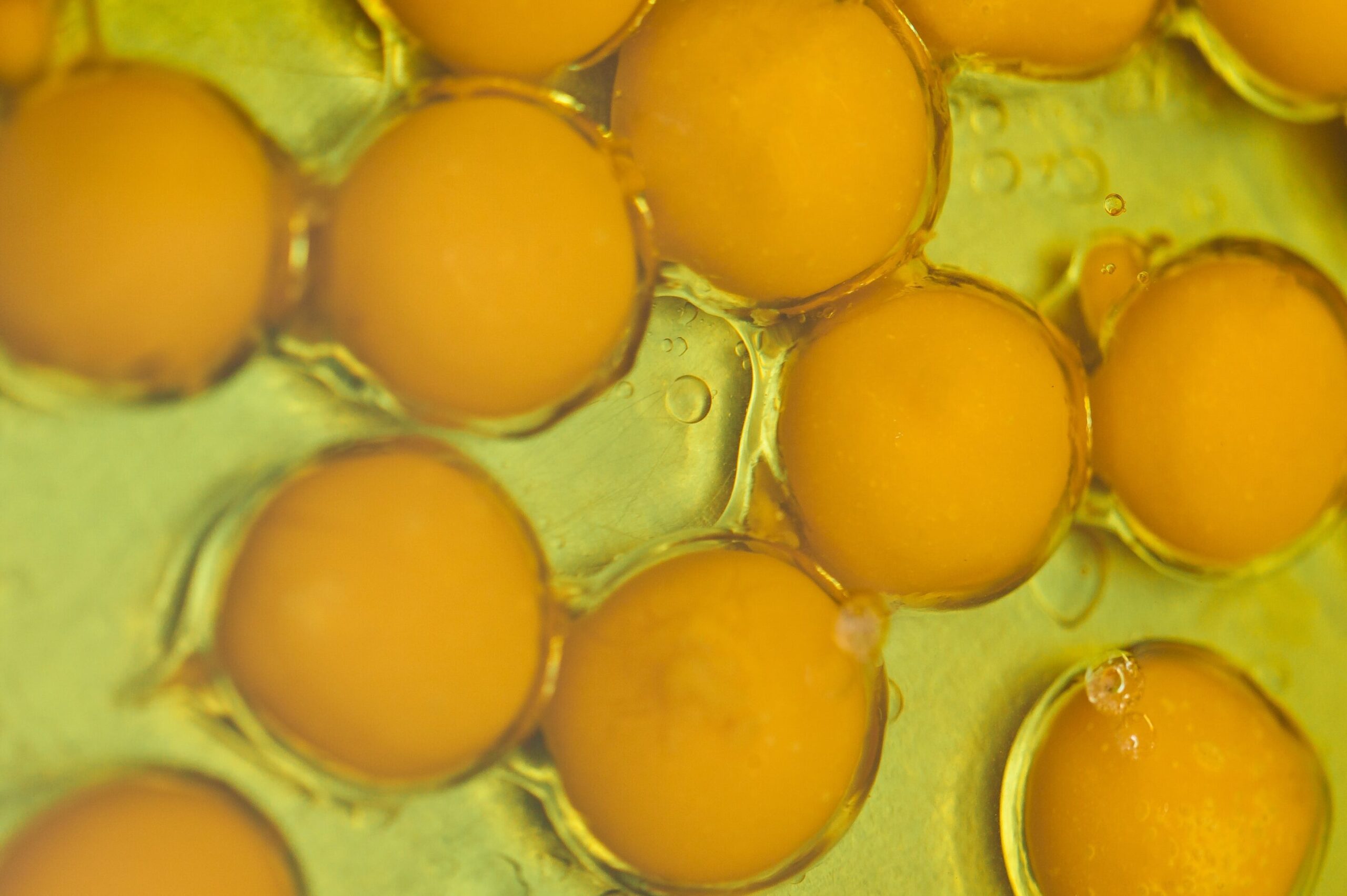 Whisk the milk into the eggs to make it fluffy. Add….
salt & pepper to taste
1tsp to 1 Tbl of various spices depending on what you like (oregano, basil, rosemary, thyme or sage)
1 tsp paprika
1/2-1 tsp spicy pepper flakes or powder (again to your taste)
Mix the above well. None of these measurements or ingredients are fixed, mix them up or add whatever spices you like.
About 1 to 1.5 cups of chopped cooked meat (bite sized). This can be sausage, bacon, ham, beef, chicken, whatever you might have in the fridge or freezer or whatever sounds good to you.
About 1 cup of shredded cheese. Again whatever you like. You can add more or less to your taste.
And about 1 to 2 cups (or a little more) of chopped veggies. If I'm using things like onions, mushrooms, or peppers, I like to sauté those some. For something like potatoes, I will either shred them so they cook easily or I'll steam them a little in the microwave to make sure they are cooked well when the dish is taken out of the oven. Things like spinach leaves, kale or other greens can be put in just as they are. Whatever you and your family likes is what's appropriate to use.
If you are making Quiche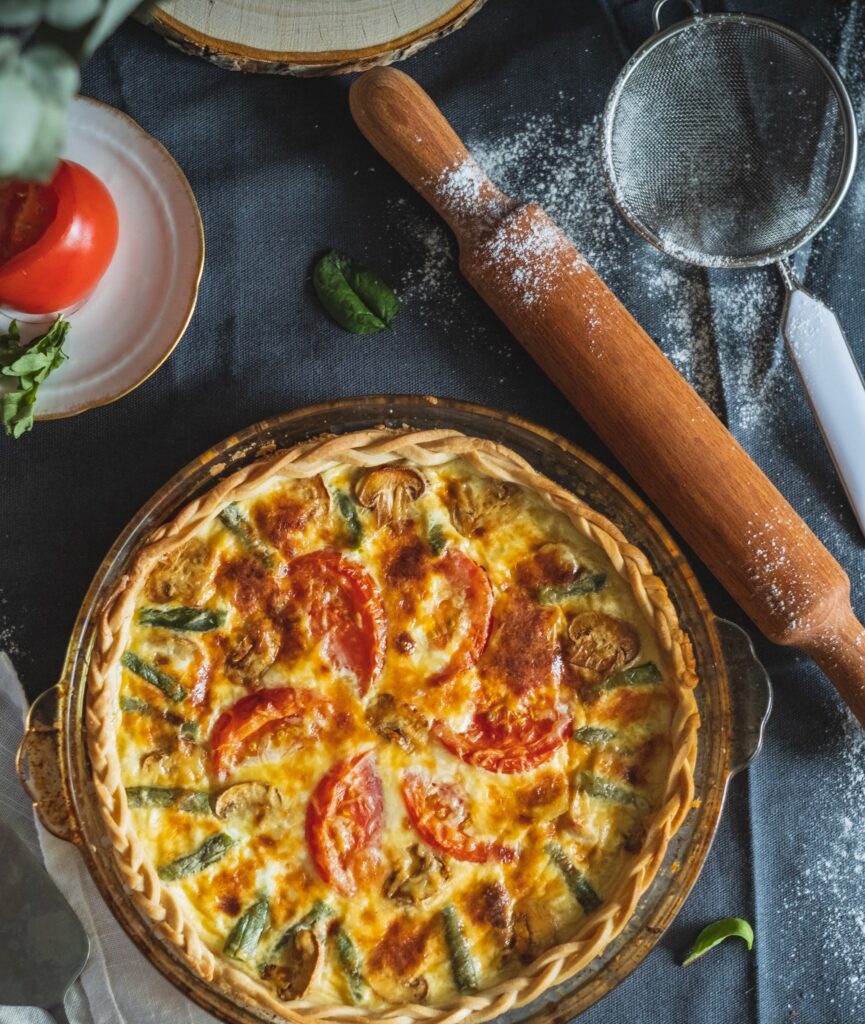 Put a crust in a 9 inch pie pan. I buy crust. I hate to admit it but I can butcher a crust recipe faster than anyone. I'm still working on it, but haven't got that one mastered yet.
Pour your mixture into the crust. You might want to cover the edges of the crust with foil so it doesn't burn before the egg mixture is done. Know that this will rise a bit in the oven, so be sure to put some foil under the pie pan while it cooks, just to prevent a mess.
Bake at 350 deg for 40 minutes to an hour or until a knife inserted into the center comes out clean.
If you are making a Frittata.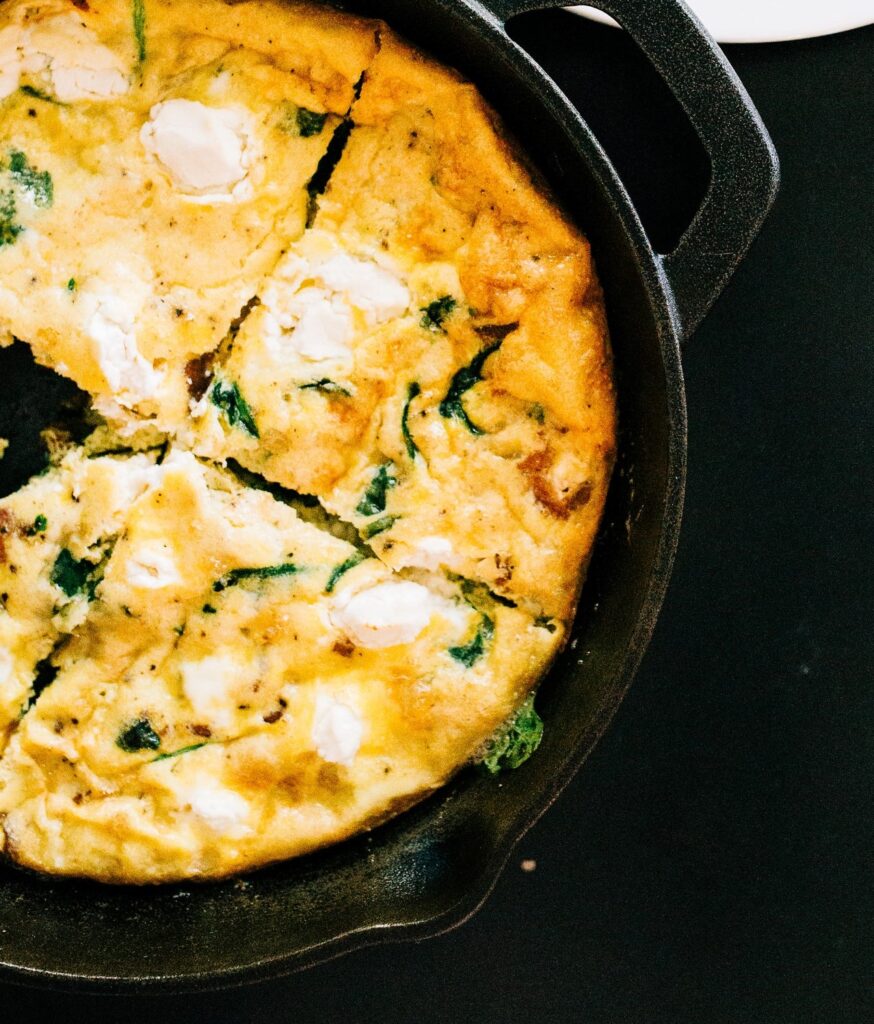 Pour your mixture in a well greased cast iron skillet (about a 12″) or other baking dish (about 9×13).
Bake at 350 deg for 40 minutes to an hour or until a knife inserted into the center comes out clean.
A bonus for the extra mixture you might have
You might notice I sometimes get carried away with what goes into one of these. Once in a while, I'll have a huge mixing bowl full of mixture, way too much for the pan I have prepared. That's okay. I've discovered a way to use it.
Frittata Muffins
Make little muffins out of the extra.
Pour the mixture into a greased muffin pan and cook until the tops are just golden brown. Be careful not to overcook these. That can happen quickly.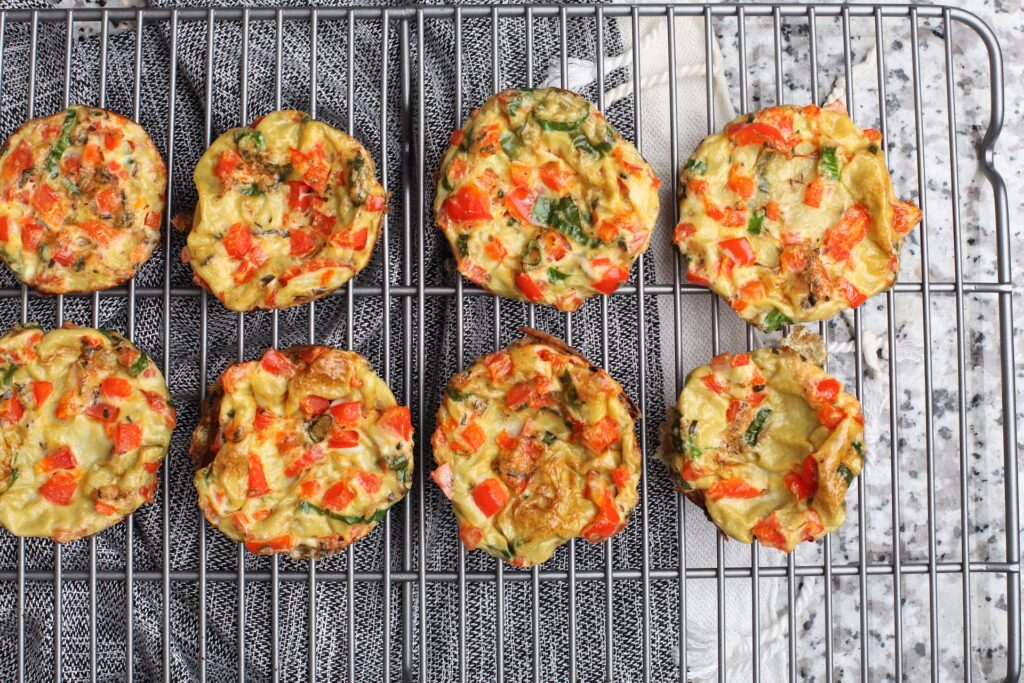 Put them in the fridge for a quick work day breakfast. Or freeze them separately on a cookie sheet and then put them into a baggie to grab them as you need them.
I hope you'll give this one a try. It's not an exact recipe by any means, but I think it's good enough for you to make it yours.
Do you have a recipe for either Quiche or Frittatas? I'd love to hear your version in the comments below if you'd like to share.